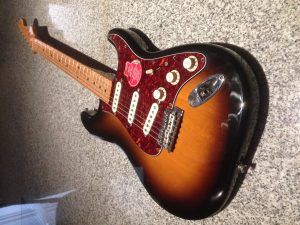 This is a Fender Classic Player 50s in gorgeous Sunburst. Yeah! Sunburst is always gorgeous. (Notice how it shows up time and time again in our Carousell page)
A classic sure "myO'thing" candidate. When we saw it, we loved it.
An authentic Fender guitar with custom shop feel. Very much like the famous Baja Fender series, the body is made in Mexico, it is  "custom shop designed" by Master Builder Dennis Galuszka. His mantra to get the feel and sound of the instrument right before everything else is shown in this design.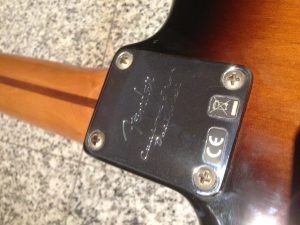 Rare in the second-hand market, because owners usually don't let them go.
What we like about this guitar is not only the gorgeous look but feels and plays top notch. The medium jumbo frets (compared to thin frets) makes your hand slides up and down the neck effortlessly. We love the soft v neck. Soft spot for them and the custom 2 point styled tremolo like those made in American Series Strat.
Unlike the usual Mexican strats, this has real American made pickups. Tune to vintage specs, you get what a 50s strat should sound like. So you can save some real money from needing to upgrade now nor the future.
It was the previous owner's O'thing having made an attempt to relic the guitar before he changed his mind to leave it alone. See the mark on the top most part of the guitar where your arm rest and a little scratch below the bridge.
Just cosmetic flaw that does not affect the tone of this baby. Infact, it adds to its character.
If you have never owned a great playing Fender guitar, this is your chance.
We got the guitar because of previous owner's change of life priority. He needed cash to attend a fork-lift work course so he passed the guitar to us to be someone else's O'thing. He quoted "I will sadly miss it because it is such a great player". We at MyO'things will too.
Hurry, make this your O'thing for only SGD 790 here in Singapore and plus shipping (separately quoted) elsewhere.
Why not, I will add a preused Fender soft case to carry this pride around. Hurry, this guitar will not last in our collection.
If you get this before the end of July, we'll include a brand new leather strap still in package. Something deserving to hold this beautiful guitar up.
Get this now or another. Just chat with us or give us your comments what kind of O'thing you are looking for.