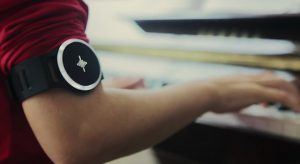 Yes, the Soundbrenner Pulse is here in Singapore.
Develop the most important aspect of music, timing! The metronome is always the device you need but you don't own because honestly, the click is irritating. This one sends a haptic pulse and beats on your skin. So you don't hear it but you feel it. This will do wonders to improve your inner rhythm.
This is our flagship product and we are promoting what we love. MyO'things is the authorised reseller for Singapore and Malaysia. We have sold hundreds in Singapore alone and expanding to Malaysia.
Don't wait! It's time to develop your inner timing. Give your ears space to hear the music, not the metronome. A metronome you can feel like it's a part of you. It's a device you always need but never got to get one. Now you would WANT this. A metronome that you can wear with you! At all times! To improve, improve, improve.
If you are in Singapore you can get it with one year local 1-1 exchange warranty and free delivery to your doorstep all across the island. SMS/Whatapp HT @ +65 92212246.
If you are in Malaysia, you can get it from our guy in KL. Or you can join international buyers to purchase it at the best price from Amazon.com (Affiliate link)